As Victoria's Secret announced this week that they had a new winged woman on their Angel #squad, rumor immediately spread that they had finally included an example of the "everyday woman" in their lineup. While this new angel isn't technically plus-sized, or being officially advertised by Victoria's Secret as such, that didn't stop followers from raving about this progressive step forward by the company.
Avid fans, as well as the brunette babe herself, claim she indisputably brings one distinct characteristic that other current VS Angels don't have—her "size-inclusive" body. Coming in at 5'8″ and 121 lbs, Barbara Palvin is the embodiment of the female figure in today's society and not at all part of the reason women everywhere are continually striving to reach an unrealistic goal weight. Palvin's weight translates to about a size 2 or 4, only slightly off from what other brands consider to be the typical plus-sizes of 14-16.
I remember being a size 2 when I was about 12 years old for the 6 months right after I became "a woman," so this celebration of inclusion for the average female body type makes complete sense.
The brand is fighting for its life right now—between criticisms that their campaigns promote unhealthy and unrealistic body types, and about a lack of realistic size options for the women who actually buy their products (you know, THEIR CUSTOMERS). An announcement last month suggests that Miss Vic is closing 53 stores in 2019. It was time for Victoria's Secret to step up their game to show people they meant business. I mean, we all know how much of a change 10 lbs can make to our bodies after our holiday binge sessions, amiright? It's HUGE!
The outpouring of love and affirmation for this wildly shocking step-in-the-right-direction by VS on Barbara's Instagram announcement speaks volumes to how the average woman feels about this strategic business move: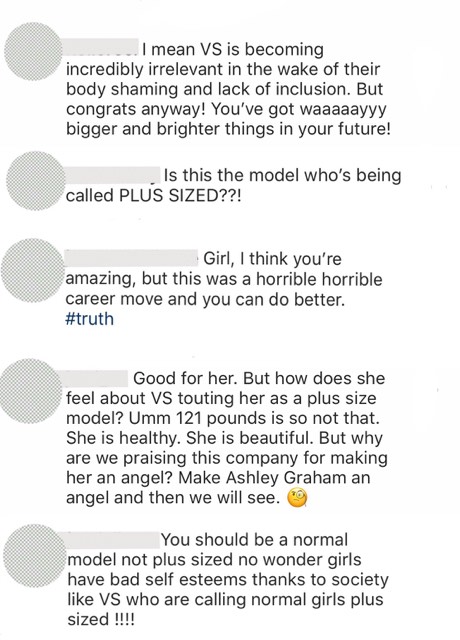 Victoria's Secret is clearly learning a thing or two from their loyal customers. Let's be honest, no one wants to see women with love handles, stretch marks, dry skin, c-section scars or double chins. We can look in the mirror and see that. We turn to VS for REALITY, ok?
Thank God VS has finally caught on to the women's cries for more representation by their popular brand, who knows if the company would have survived another suicidal business move. It's about time they open their eyes to their portrayal of women being subjective and unrealistic. Their past has certainly caught up with them and they are working hard to shed off those extra critical "pounds" of condemning mistakes they made over the years. (Can you see my eyes rolling?)
Maybe soon VS will see that to look like a REAL woman takes a lot of hard work and deserves more than a small tip of the scale. Until then, we'll just look forward to more tight bods, unhealthy images, and (hopefully) store closures from "every woman's" favorite brand.