This post contains affiliate links.
I know that back-to-school time is pure hell for some. I do have a few things up my sleeve ready for when all hell breaks loose and I need a "save me" product to put a smile on my family's faces. All of them. Including the dog and hubby. I mean face it…we #RealityMoms DO take care of EVERYONE, don't we?
#RealMomGiftGuide Back-to-School Mom Hacks
Super-Me Backpacks
Do you have a Super Hero on your hands? Are they headed to school/daycare? Do they need a little motivation? Well, the is the bag for you. This award-winning cape backpack allows each child to bring out the hero within and lets imagination fly high! There is even a secret, sewn-in cape & a mask to go with it! Can you say SUPER FUN! Even I want one! The bags are made with naturally insulating EVA, are safe for kids and the environment, super durable and machine washable. You can even have your Super Hero's name personalized on the bag. Now….which one to choose?
Dyson V6 Absolute
Kiddo headed off to college? Want them to keep a clean dorm room? Wait…clean and dorm room in the same sentence? Well, this can help! The Dyson V6 Absolute…is absolutely amazing. This baby comes with two Dyson-engineered cleaner heads. So it can handle both carpets and hard floors. It has a HEPA filtration system…goodbye allergens! This powerhouse is just the right size for the dorm rooms, but still does the job! They have extra tools if you want one for yourself and you have pets! Get cleaning!!! (PS, I've "tested" a couple of these and this one BLOWS any of the other Dyson products or vacuums for that matter out of the ballpark! I love to vacuum with this thing! WAIT. Did I just say that? #HoldME
Land's End Backpacks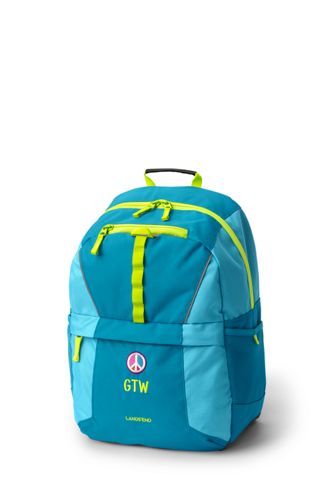 This is a no brainer…..think backpack….think Land's End. Durable..durable and more durable. These backpacks last and last. No more need to grab a new backpack every year. (I know because last year we got a new one and it barely made it 1/2 way through the season!) Land's End has a size and style to fit every student. The choices are amazing. Land's End thinks of everything so you don't need to worry! Padded shoulder straps, reflective stitching ….they even thought of a loop to hold matching lunch boxes. Like I said, a no brainer!!!! You can personalize each bag for your special student. Kids LOVE personalized goodies!
Brother P Label Maker
Speaking of personalization…stressing over whose folder is whose? Johnny had the green one right? Or, was his blue?Oh…and now a note from the teacher, "Parents could you please help out the classroom and label your child's items?" WHAT? Well…Brother has a solution …more like an answer to your prayers. Recognized as one of the "best tools of all time" by The Good Housekeeping Institute, the Brother P-touch label maker. This secret weapon can help parents accomplish most back-to-school projects in just a few simple steps – from ensuring that important items don't get lost at school to adding a personal touch to school supplies to organizing family schedules. With a P-touch, parents can say goodbye to markers, scissors, tape, glue, and printing.
Water Week Kid's Kaliedoscope Bottle Set
Today's kids have been raised with the 3R's—Reduce, Reuse and Recycle. They have grown up in a world that is constantly searching for ways to help the environment. Water Week Kid's Kaleidoscope helps them contribute to this journey. These beauties are perfect. Saves time and water. Water bottles on hand ….. and best of all they are clean and ready for each day. No more running around last minute looking for that darn missing cover! Just open up the fridge and away you go!
Yummy World
Kidrobot has created a new world of fun and excitement! Yummy World is set in the lovely town of Sprinkle Tree. Sprinkle Tree is a magically yummy place where food is fun and fresh baked friendships begin! There are adventures to be had and food to be loved! Where else could a slice of pizza come alive and carry your most precious things. Come and travel to Sprinkle Tree and meet the softer, yummier side of Kidrobot.
EcoLunchBox
EcoLunchbox offsets the carbon footprint of school lunches with its non-toxic, reusable stainless steel containers and artisan-crafted bags. Students throw away 100 million pieces of trash each hour and the average family throws away 18-pieces per day at a cost of $450-year. Paper bags and ziplocs may seem insignificant but they add up to mountains of trash over time. Using Ecolunchboxes prevents 8-million pounds of trash from hitting the landfills each year and offsets the CO2 equivalent of driving 5.4 million miles. An added bonus? It also saves parents hundreds of dollars and is free of BPA and other toxic chemicals.
Paper Culture
Paper Culture has disrupted the stationery market with eco-friendly cards, gifts and wall decor made from 100% recycled paper or renewable resources. No trees are cut down to make their cards and the company has pledged to plant a tree for every order – more than 350,000 so far! Not only is Paper Culture offering custom, modern design for school supplies, the company is actually leaving the environment in a better place as a result.